WE TRIED TO WORK WITH ISD #518 ADMINISTRATORS, BUT THE TRACK RECORD OF MANIPULATION, CORRUPTION, AND DECEIT HAS GONE FAR ENOUGH.  IT'S TIME TO EXPOSE IT ALL.
THE DEAL'S OFF.  IT'S OPPOSITION GAME ON!
DON'T GIVE THIS SUPERINTENDENT AND THE MAJORITY OF THIS INCOMPETENT SCHOOL BOARD ONE 'D••M DIME' ON AUGUST 14!  THEY CANNOT BE TRUSTED WITH $35 MILLION BUILDING MONEY!
After Worthington ISD 518 voters defeated yet another wasteful ($68.5 million) school proposal on February 13, the executive committee of the Worthington Citizens for Progress Committee was hopeful. We have lives to get back to and certainly don't have the massive amounts of taxpayer resources to fund most of our campaign, as the school board and Superintendent Landgaard enjoy.
At the same time, we were hopeful that the foolishly stubborn and deaf school board (majority at least) members would humble their pride and restore their hearing and seek to meet #518's space needs in an affordable manner – which most local voters have repeatedly told them they could support.
We were also hopeful when we heard Superintendent Landgaard was a finalist for the Superintendent job in Morehead ISD. It was clear to us that if he didn't get his way he was willing to leave.
Landgaard called us all to a meeting recently where many key people in this effort were gathered together.  We re-iterated that we said we would remain silent if they spent no additional money over the $35 million, did not see this Intermediate school as one designed to add onto a few years down the road to make into their long desired High School (as board member Joel Lorenz argued for a year ago) and kept the expansion of athletic facilities off the ballot. Not only did they not listen but the attendees spent much of the time pressuring us to openly support this August proposal, which we continued to refuse to do.
One of our executive committee members finally asked Superintendent Landgaard how come not one school board member was at this meeting.  "Is it because you will put your spin on what we say at this meeting when you report back to the board?"  He had no answer.  Now we see that Board President Lori Dudley is saying on social media that we support this August proposal.  Where did she get this false idea?  From Landgaard?
NO MATTER HOW THEY TRY TO MANIPULATE PUBLIC PERCEPTION, THE PUBLIC HAS MADE IT CLEAR!
Never forget that a high-quality February 2017 survey of 400 voters made it clear that the most the typical, median-valued, homeowner could contribute in increased property taxes would fund a $25 million general obligation bond. Knowing this, the district still went ahead and issued a $10 million bond, without voter approval, on the ALC/Gymnasium building. This leaves approximately $15 million left in borrowing capacity, which the average homeowner says they can afford to help repay.
The Exec. Comm. of WCPC decided to give Landgaard an opportunity with his newer proposal.  But we placed conditions on our willingness not to oppose it.  And soon after we agreed not to campaign against his proposal, Landgaard broke the terms of our agreement. And broke them in a way that it clear to us that this August 14 proposal is just another approach to get the big ticket high school and athletic facility he's always wanted.  More on that in our next post, coming, well before Election Day.
THE KAREN ABBOTT MATTER IS A REFLECTION OF A MUCH BIGGER PROBLEM OF THE LOST CREDIBILITY OF SENIOR MANAGEMENT AT #518. THE LOSS IS SO GREAT THAT THEY CAN NOT BE TRUSTED WITH ANY BUILDING PROGRAM MONEY.
Former ISD #518 teacher, Karen Abbot, was principled enough to wait to send us a copy of her resignation letter several days after the voters defeated the $68.5 million February proposal. If she was self-serving she could have provided it to us before Election Day, hoping to use us to leverage her case. She did no such thing.
After an interview of Abbott, we wrote on this wall, February 19, 2018, that "She showed us evidence of special needs educational plans being made in the absence of parents, the student (of transition age) and the case worker, all in violation of federal laws. The emails that Abbott showed us during our interview were ones between her and other district employees (with all student names and details redacted) where she was rebutting their slanderous attempt to shift the violations of the law away from themselves onto her.   Ms. Abbott was meticulous toward redacting student's names in the documents she showed us." 
Further we published that, "She was instructed to falsify grades of her students who had high unexcused absentee rates but were still accomplishing their work. By policy, such high absenteeism produces a 'no credit' on their record. But ALC administrators insisted she lower grades, some from A's to F's, instead of just a simple no credit. A 'no credit' affects graduation date whereas an F does that as well and lowers their GPA.  She was concerned that an unlicensed staff person gets to make the decision on absentees."
We also published on the same post that Abbott wrote us, "It was in this rebuttal that I redacted student names. I did not remove any student records from the District. Any student information that I printed or obtained was either shredded or given directly to the student for personal file or use."
The emails that Abbott showed us during our interview were ones between her and other district employees where she was rebutting their slanderous attempt to shift the violations of the law away from themselves onto her.
DOES THE GLOBE'S BIAS HAVE A FINANCIAL INTEREST?
The Worthington Daily Globe continues to show their long-running bias reporting against the taxpayers with their July 18, 2018, report that "…the specific post in question is no longer found on the WCPC Facebook page…"  This is simply not true.  It was posted on February 19, 2018 and has never been taken down.  Maybe this bias has something to do with Rebecca McGaughey's  active campaign activities to pass the February 2018 bond proposal.   Rebecca is the wife of Ryan McGaughey managing editor of the Worthington Globe.  Public records (FY2017) show Rebecca is employed as a Teacher at ISD #518, collecting $68,200 in taxpayer-funded salary and benefits.  As the saying goes –  money talks.  And sometimes it only needs to whisper.
And never forget, subject to some limitations, it is John Landgaard who gets primary daily control of where the nearly $45,000,000 annual budget money gets spent into this region.
MDE FINDS SEVERAL VIOLATIONS OF LAW, JUST AS ABBOTT SAID.
On June 27, 2018, after a rather extended investigation, the Minnesota Department of Education vindicated Abbott and found #518 in violations of several state and federal laws. Just because the sanctions for this lawlessness are merely administrative, none of this is to lessen the harm that was done to the children in the program. The July 18, 2018 Globe reported, "He told board members that the investigation and ultimate findings were "not much different" than the three to five-year MDE reviews that occur without an initial complaint." He indicated that the MDE minimized any harm done to the children.  This response, we find, to be very callous. Has anyone heard from the children, themselves?  This sort of abuse of the kids in the ALC program is routine?
When we interviewed Abbott what repeatedly concerned her was the harm they are doing to these children.  We hope much more of that harm will be coming out during the civil lawsuit between the two parties.
BUT LANDGAARD WAS SHOOTING FOR THE NEXT ELECTION DAY – SINCE SET AT AUGUST 14!
Abbott reported to us that after her January resignation she never heard one word from Landgaard nor any other senior administrator regarding her allegations of academic abuse of these needy children.  Nothing.  She told us that one school board member cared enough to ask Landgaard about it, but that he was shut down.
Clearly to us, Landgaard, already with shaky voter credibility, had to quickly turn the focus of Abbott's charges against #518 away from him and back onto her, the 'whistleblower'.   Then there is Barry Fischer, who until recently was principal of the ALC program.    Abbott recorded him saying, "These (ALC) kids don't care about their GPA's."  He was accused of other unlawful conduct by Abbot.
Barry Fischer resigned from #518 a few weeks ago to take a new position at Carlton ISD, near Duluth.  We recently emailed Fischer at his new ISD email account and asked him if this move was part of his long-term career plan to go to a much smaller ISD or if he was asked to look elsewhere.  And if asked, would he mind telling us who asked him to leave?  At press time he has not responded.
In the February 21, 2018 Globe it was reported that from the time of the complaint the "MDE has 60 days to complete its findings, so Landgaard expects a decision in early April."   School administrators don't usually speak to the media until they've been briefed by the state MDE so they know what to say.
So what caused the MDE to wait nearly 3 months after this deadline to release their findings on June 27, 2018?  Worse, nearly two weeks after the MDE released it the Globe  finally reported on it.   Even then it was only a few hours after we posted it first on our Facebook page?  Did the clearly biased Globe otherwise intend on hiding it?  We've gotten used to that with them.
HERE IS WHERE IT GOT DISGUSTING.
Soon after the February interview with Abbott was published, Landgaard contacted the Worthington police to file a complaint against Abbott.  We got roped into it soon thereafter.  We saw this as nothing more than a deflection away from the declining credibility Landgaard himself has.
Our committee received a threatening letter from the district's attorney, advising us to turn over all student records and other data that we were provided.   Clearly, Landgaard needed to 'up his game' to protect himself. We didn't bother to respond to their bluff as we never possessed nor saw any student records, which they speculated we had.
The emails and rebuttal that Abbott showed us during our interview were ones between her and other district employees (with all student names and details redacted) where she was rebutting their slanderous attempt to shift the violations of the law away from themselves onto her.  These were her emails and had to do with district employee actions.
Abbott was aware of the laws governing the district's activities and, as a result, she turned the district in. Again, the MDE found #518 violated these laws multiple times. Look for their report (Case #18-055C) dated July 10, 2018 found here.
Not only did Landgaard show no interest in this honorable 'whistleblower' but when no one else in the district would do anything, for the sake of those kids, she turned to WCPC.
COPS?  REALLY LANDGAARD? THEN THE CRIMINAL INVESTIGATOR TURNED TOWARD US.

---
Our political work to protect the children, families and taxpayers of Worthington ISD takes resources.  If you are as concerned as we are and want to support our cause now would be a great time to make the most generous campaign donation you can.  Click here.
---
BUT FIRST, DID YOU KNOW THE POLICE ARE LEGALLY ABLE TO LIE WHEN INTERVIEWING OR INTERROGATING EVEN INNOCENT PARTIES?
We normally support proper law enforcement and its role in suppressing crime.  Honorable men on the thin blue line deserve our support.  Honorable ones.  But let's not forget the city was recently sued by the ACLU for alleged civil rights violations.  When the cops show up it never hurts to be aware of what an innocent person is up against.
Here's some vital background information.  Jim Trainum was a 27-year veteran of the police department of Washington D.C., including 19 years as a homicide detective. This highly awarded and professionally recognized detective authored a book titled  How The Police Generate False Confessions.
It's a stunning look into the laws, training and mindset governing a typical police detective's conduct.
Normal citizens with no contact with the police will, at first, have a hard time even believing what Trainum reports. But do understand that many prosecutors have failed in court when wrongfully prosecuting innocent parties, where he was the expert witness for the defense.
THEY CAN LIE TO A SUSPECT ABOUT THEIR LEGAL ABILITY TO LIE TO THAT SAME SUSPECT.   AND NO, THAT'S NOT A TYPO.
Trainum reports, "In order to learn "the truth," the courts have ruled that within limits, the investigator can lie…They can even lie and tell the suspect that it is against the law for the police to lie to a suspect in an interrogation room." p. 88
It is not against the law for a Worthington police officer to lie to someone when they are interviewing or interrogating them.  Trainum also reports that, "the largest interrogation school in the United States, the Read Institute, blatantly admits that successful interrogations "frequently require the use of…techniques that could be classified as 'unethical,'  if evaluated in terms of ordinary everyday social behavior." p. 79
WORTHINGTON POLICE DETECTIVE PEIL'S TRICK
This is all important when one considers Worthington police detective Brandon Peil's conduct during this investigation.  Soon Tom Prins, WCPC Co-Treasurer, was served a copy of a notice by Facebook that a law enforcement agency was seeking access to our committee's FB page, which he hosts on his personal FB account.   Prins later learned that he received this notice only after Detective Peil had already been in our FB account.  So much for timely due process for our attorney to object to any false evidence presented to the Judge in the Affidavit of Evidence.  Maybe the Judge was in a hurry to sign it?  (See more on that possibility below.)
But imagine if you were innocent and they did this to your home – serve you a search warrant after they've been through it.  Here's a picture of the notice Prins received.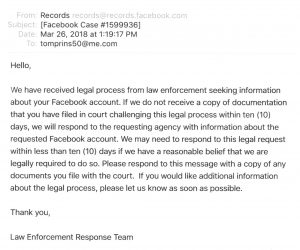 Prins promptly went in to ask the Sheriff what this was about.  The Sheriff confirmed that it was a valid warrant to enter WCPC's  Facebook page but said that he knew nothing more about it.
While there, Prins ran into police investigator Brandon Peil.  Peil asked if he could stop in so that he could provide Prins details as to how they got where they were in his investigation.  His implication was that he was going to explain to Prins the details leading up to the searching of WCPC's Facebook account.  (Specifically, Prins wanted to see the information on the Affidavit of Evidence which Judge Gordy Moore III used to sign the search warrant.)
Prins agreed to go in a few days later.  But before the meeting he was advised that it was possible that Peil was lying to him, that he may not be providing Prins any of the details and that Peil would launch into interrogation mode when he arrived.   Prin's attorney advised him to have the county attorney provide a signed letter that he was not under investigation nor be charged with anything in this matter before he cooperated.  Lying investigators can cause a lot of harm to an innocent man.
When Prins arrived, Peil launched right in to an interview saying, "I believe you are a witness to this, ok, so I want to talk to you about what you know that Karen spoke to you about and stuff like that."   Prins recognized he'd been tricked to stop in.  Prins stopped him and asked for a copy of the Affidavit of Evidence that supported the Judge's signature for a Search Warrant.  Peil would only give him a copy of the Search Warrant but not the Affidavit, where we're certain Landgaard's false charges would appear.  (We've asked for the Affidavit a couple of times and have been refused.)
Seeing Peil as untrustworthy Prins then told him what his attorney advised him to request, and that he would not speak to him any further until he provided it.  It was obvious to Prins that Peil was trained to deceive him to get him into Peil's office for the interview.
COPS MANIPULATE WITNESSES
Further, author Trainum writes a section entitled Internalized Confessions And Statements. "This type of confession or statement is perhaps the hardest for people to understand. Through the interrogation process, the person comes to believe that they…witnessed something even though they have no actual memory of having done so. What happens is that the…witness begins to distrust their memory and begin to look to the investigator for suggestions or answers. By the time they give their final confession…the witness actually believes that what they said is true. This condition might last, or it may dissipate once the suspect or witness leaves the interrogation room and is no longer subjected to its coercive influence…Memory manipulation is not that hard… It can be done simply through the way we ask questions. Leading questions such as "Was the suspect's hat blue?" suggest or provide the answer. There have been experiments that prove that fictional events…. can be inserted into a person's memory…The suspect who respects and trusts law enforcement and authority in general seems to be more susceptible to making a coerced internalized confession." p. 57
We've now seen the Globe's (7/18/2018) report of the criminal complaint that was filed against whistleblower Abbott.  They reported that the police have one witness.  If this goes to trial, we will be eager to see if Abbott's attorney will be able to get the truth from this witness as to just how her statements to Peil came about.  Any lies used?  Any coercion?  Any words put into her mouth?
WILBUR PRINS WAS OUT OF STATE!
Peil's dishonesty parallels his poor investigative techniques, too.  Wilbur Prins is mentioned in criminal complaint against Abbott (and through all the local media) as one who declined to speak to Peil.  Wilbur Prins was out of state during all of this and has never met nor spoken to Karen Abbott nor Detective Peil (that he knows of).   Neither has he received any phone calls from either party.
Finally, Trainum goes into detail as to how some lazy detectives often get training by watching TV cop shows (literally) and are quick to make their investigations 'suspect based' and not 'evidence based', especially when someone else plants the "suspect" in the mind of the detective at the git-go.   He writes, "It is natural for an investigator to begin to construct a narrative as to how the crime happened from the moment they arrive at the scene."  p. 67 Or in this case, could it be from the moment the detective first spoke to Landgaard or ISD #518's attorney?
When Detective Peil spoke with our Chairman David Bosma on the phone he stated that Karen Abbott "…gave too much information to your guy's group."  And that "…she released too much information." Yet the court complaint doesn't list anything other than speculative conclusions from our Facebook post, while ignoring her statements that she took no student records.   What information/evidence does Peil have?  What is he referring to?  Keep in mind another Worthington police officer was actively campaigning against us on our FB page last winter.  Have any, under Landgaard's 'long arm' , influenced Peil to let this become a suspect based investigation and not one based on solid evidence?
AS WE WERE THE ONLY ONES "PUTTING FORTH" IDEAS TO OPPOSE THE LAST BOND, NOW CONSIDER THIS BIZARRE COMMENT BY JUDGE GORDON MOORE III'S WIFE ABOUT US!
We have screen shots of Judge Gordon Moore III's son aggressively posting on FB opposing us during the campaign.  His comments implicate most of those voters of Worthington ISD, who agreed with us.
We've previously held the Moore family and their contributions to Worthington in good regard.  But the Moore FB post that should really be offensive to the majority voters of Worthington ISD comes from the woman the Judge Moore shares his pillow talk with at night: Jane Turpin Moore.  One of our constant detractors during the campaign was an Orissa Nitibhon.  In a post during the campaign the Judge's wife wrote praising young Nitibhon saying, "The selfish attitudes being put forth by the "haters" of advancing educational opportunities for all of the students here are what turn me off the most….I hope you have seen …."Little Shop of Horrors" and WHEN you are a dentist, may this person by some weird twist of karma end up in YOUR dental chair!" Here's a screen shot of her post: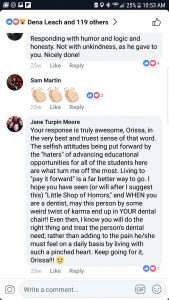 Keep in mind the dentist in this bizarre movie which Jane Moore commends is a sadistic dentist who adores his profession because of the constant opportunities to inflict pain on others.  Moore concludes her post with the comment that she is confident that, as a future dentist, young Nitibhon will "do the right thing and treat the person's dental need, rather than adding to the pain he/she must feel on a daily basis by living with such a pinched heart."
What a bizarre view Judge Moore's wife holds of her political opponents and, by extension, most taxpayers who only want to meet our children's space needs at an affordable cost.   By her analogy it appears she sees us as haters worthy of dental pain because of our "pinched hearts".  One wonders what she will encourage her husband do to Karen Abbot or one of the WCPC executive committee members if we end up in "his chair".
BUT IT GETS WORSE. SOMEONE NEEDS TO CHECK WITH THE MINNESOTA CODE OF JUDICIAL CONDUCT TO SEE IF JUDGE GORDON MOORE III HAS VIOLATED THIS CANON!
Judge Gordon Moore III signed the search warrant with, what appears to us, scant evidence and now he is presiding over Karen Abbot's criminal arraignment. But wait a minute.  See this screenshot when Judge Moore and his wife were actively campaigning for the $80 million November 2016 ISD #518 building proposal?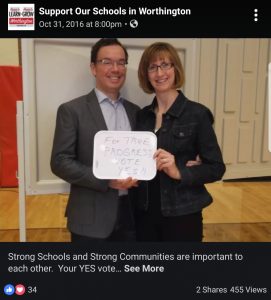 Look carefully at Judge Moore's campaign sign in this picture posted on the proponent's Facebook page in October 2016.  It reads, "For TRUE PROGRESS VOTE YES."
This begs the question.  Who was campaigning for so-called false progress by asking voters to vote NO?  There was no other committee registered with election officials campaigning in that referendum other than the proponent's committee and ours:  Worthington Citizens for Progress Committee (WCPC).  We have argued for 21 months that real progress for the children, middle class and struggling agriculture is accomplished by voting NO to their wasteful proposals.
Judge Gordon L. Moore III, his wife and family have been actively campaigning against us this entire time.  Yet, the majority voters have handed them two defeats.  Meanwhile, at the link above  the Code of Judicial Conduct starts with this statement, "A Judge…shall not engage in political or campaign activity that is inconsistent with the independence, integrity, or impartiality of the judiciary."
So why did Judge Moore sign a search warrant, initiated by a complaint from John Landgaard, to let Investigator Peil search WCPC's Facebook page?  Sour grapes?  Using his position of authority to advance his personal political agenda?  Who knows, but we think proper judicial authorities should investigate Judge Gordon Moore III's public conduct.
It looks to us like Landgaard's lackeys are all through positions of power in Worthington.

THE REST OF THE STORY ON MAYOR KUHLE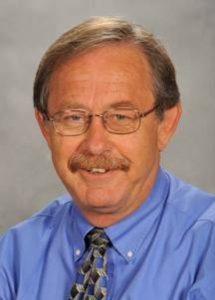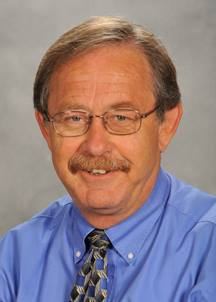 We held back important material over the last year which we thought would only tear apart our community further. We publish now only to stop Superintendent Landgaard from accomplishing this very thing.    We tried to make peace this spring.  John Landgaard only took this as weakness.
We doubt that it was coincidental that the summons for arraignment of Karen Abbott was filed two days after the MDE released their report on all the violations of law the district engaged in.  In our opinion, when Landgaard knew Abbott caught him he needed something to discredit her and encourage the police and prosecutor to proceed ahead. We doubt that any criminal charges would have been filed if Abbott had been proven wrong by the MDE.  He would have discredited her and the WCPC and used that to encourage the community to "heal" and vote for his current proposal.
Now we need to tell you some more background. Worthington Mayor Kuhle attended a political meeting of ours at the Conference Center, April 2017.  Afterward, Mayor Kuhle approached our treasurer Tom Prins and commended the committee for our opposition work and gave us a small donation.
More ominously, several of our executive committee members heard Landgaard in the Spring of 2017 express his frustration with City Council's lack of vocal support in Nov. 2016 and his intent to get them on board the next time.   Suddenly, Mayor Kuhle changed his position and was publicly supporting the $68.5 million February ballot proposal (only 13.8% less than the previous proposal), which the voters again stopped cold.
Two other council members have been publicly supporting Landgaard's proposals, as well.  Did they and Landgaard gang up on our Mayor?
Several weeks after Landgaard's February defeat, Kuhle met Prins in a local establishment one evening.  Mayor Kuhle told Prins that the only way this town is going to settle down about the school issue is "get rid of Landgaard."
And Mayor Kuhle said the same thing to WCPC co-treasurer Tom Prins again this week.  Just how much pressure is being placed on Mayor Kuhle by Landgaard and his friends?
We see Landgaard as desperate for credibility and will attempt to discredit anyone who gets in his way.   We suspect he cares little anymore for Worthington.  He clearly wants to leave, as he applied for a similar job in Morehead.    But the one bloc he can't discredit are the majority of the voters.
Let's not give Landgaard nor this school board one d••m  dime to spend on school buildings.  Let's show the children of ISD #518 what it really means to stand up to a manipulative bully.  Vote NO August 14!
Then let's recruit some candidates to run in September to clean out the unthinking, bobbling nabobs on the school board who've let Landgaard become their puppet master, as we watch them sing and dance to his tune!  Then we can follow new leadership in addressing our district's space needs.
More on the direct problems with the $35 million August 14 proposal coming on our next post, coming well before Election Day.
Dave Bosma and Rob Kremer, Co-Chairs
Wilbur and Tom Prins, Co-Treasurers
Ph 507-329-1534  or Email WorthingtonCitizensForProgress@yahoo.com
---
Our political work to protect the children, families and taxpayers of Worthington ISD takes resources.  If you are as concerned as we are and want to support our cause, now would be a great time to make the most generous donation you can afford.  Click here.
---
Paid for by Worthington Citizens for Progress Committee